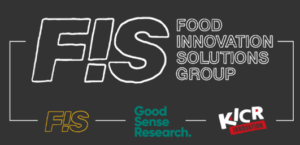 F!S Group – (Food Innovation Solutions Group) the original creative consultancy for food and beverage innovation has wholly acquired KICR Innovation for an undisclosed sum with exciting growth plans for the future. Previously the FIS group owned 50% of KICR.
KICR brings to the F!S family, expert skills, vast experience and energy, it works in a unique business model partnership with its clients. This specialist innovation service powerfully harnesses deep and continuous consumer insight combined with its innovation and prototyping expertise creating a powerful force in delivering rapid, more successful and agile breakthrough innovation.
KICR is a perfect complement to F!S's two existing businesses, Food Innovation Solutions and Good Sense Research. F!S founder and CEO Mike Faers stated "that the acquisition will add further value to the group with many opportunities to cross pollinate skills and services, with many exciting growth plans."
KICR has a team of colleagues with expertise from across the industry from Foodservice to retail, from CPG brands to private label, across ambient, chilled and frozen. The team deliver for their partners fast-paced innovation projects focused on brand creation, product design and development, packaging, commercialisation and channel strategy.
KICR has been in partnership with Princes Group for over 2 years, embedded in the business as part of their Innov8 team. Alan Eriksen, marketing director at Princes Group, said:
"Innov8 by Princes, and the KICR partnership, delivers strategic food and beverage blue sky innovation. It is an industry first initiative and has redefined how we approach innovation and new product development. It amplifies the voice of consumers, who sit right at the heart of all the NPD decisions we take."
In recognition of the unique partnership, Princes and KICR were runners up in both the Food Manufacturing Awards and the Grocer Gold Awards earlier this year.
KICR Innovation partnerships provide a rapid end-to-end innovation process where the consumer is at the heart of its new product development. They can create bespoke online communities used for a wide range of qualitative and quantitative research tasks, providing immediate consumer insight that clients believe ensure forward-thinking and commercially successful new product launches. As well as reducing the costs of launching new products into market by half.
Post COVID restrictions, we have seen drastically altered consumer behaviour and shopping patterns, so now is the time to listen and innovate as quickly as possible to respond to the changing needs of shoppers especially in the current climate.
Mike Faers, founder of KICR and FIS Group CEO, said:
"Coupling our ground-breaking expert approach to innovation and product development with our rapid consumer co-creation tools with our partners delivers exceptional products that have mass consumer appeal and are commercially powerful.
This approach to Innovation is unique within the industry and does not exist anywhere else – it is innovation fit for the 20's as we lean into a new set of rules which we do not fully understand as yet. So, flexibility and agility will be key to winning in food and beverage innovation."
Successful innovation is built on bringing together the power of three – The Consumer, The Expert and The Client. The sweet spot of this Venn diagram is where we find the most successful innovative solutions. KICR Partnerships are built on bringing together the power of three.
For further information, please visit https://fis-group.co.uk
For press enquiries, please contact Emma Wood emmaw@fis-group.co.uk or call +44 (0)7902 335374.