As we enter the heavily trailed 'new normal', there is a whiff of the extreme around recent food and beverage innovation. What's the story and are manufacturers just playing on the edges – ignoring the mainstream middle? KICR investigates!
After the last eighteen months, it is no surprise that many of us want a little excitement from our supermarket haul. And this is exactly what some manufacturers are relying on – with a slate of new products designed to 'shock' and generate a more impulsive shopping dynamic.
More extreme innovation is nothing new. A hedonistic population – whipped up by constant online stimulation – has given rise to blue wine, 'killer coffee' and extra sour candy in recent times. Suffice to say, restrictions in response to the pandemic have recalibrated the value we all place on experiences – and everyday food and beverage has a part to play in providing more theatre.
"In 2022, expect a more experimental consumer – more open to sensory challenge – to add a little excitement to their day."
Andrew Wardlaw, Chief Ideas Officer, KICR
We can already see the direction of travel with a new breed of innovation designed to provoke reaction and generate FOMO (Fear of Missing Out). Intense flavor hits and novel textures are increasingly taking centerstage. In 2021, we were crazy for Marmite 'Dynamite' Chili. In 2022, we will be mad for Nitro Pepsi in cans.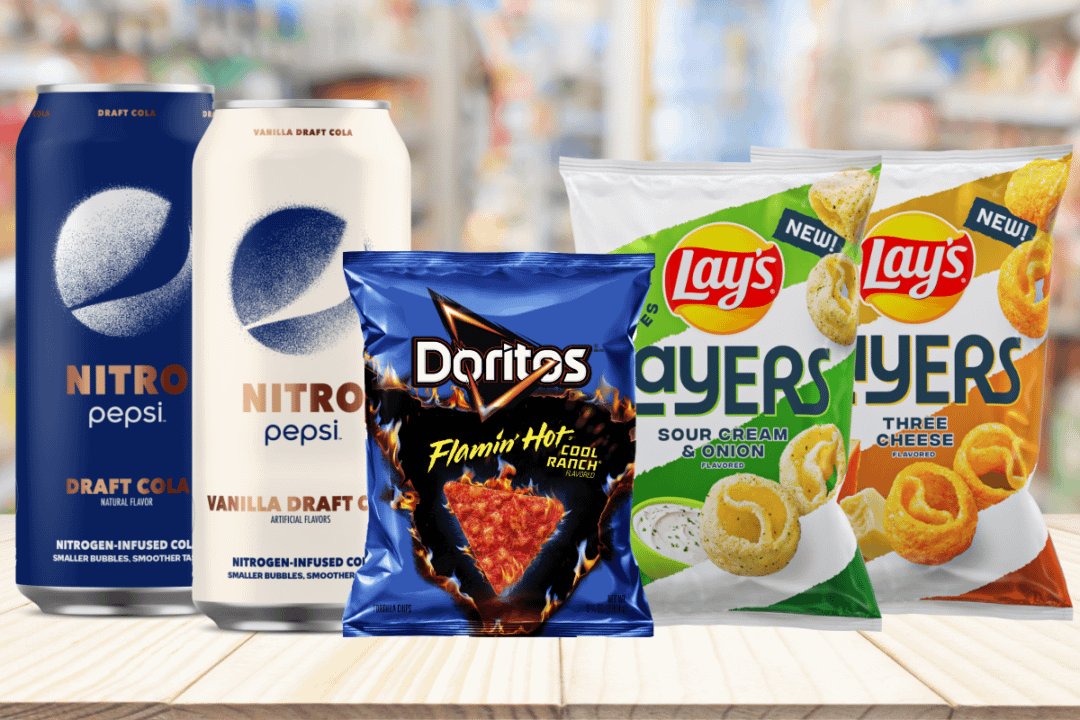 Comfort vs. Discomfort 
From our vantage point, we see a post pandemic world characterized by increasing polarization. In food and beverage, people will be flirting with two extremes. One of these is comfort: products that reassure on a sensory level: nostalgic flavors and formats that evoke simpler times. The other is tantamount to discomfort: sensory experimentation with added jeopardy!  
Last month, Global Data reported that nearly one third of U.S consumers had purchased a new variety of soft drink simply out of curiosity – or fear of missing out. In response, brands like Mountain Dew have introduced limited editions and more extreme flavor profiles. One recent launch practically broke the company's website as people scrambled to get their hands on some.  
Extreme innovation of the boldest kind can be commercially sound, breaking into people's attention spans where 'ordinary' passes them by. It can shift the center of gravity for an entire category – bringing it more into line with modern tastes. Keeping it current. And it can generate vast amounts of publicity and incremental sales. One recent survey found that 47% of millennials had bought into products that they had found trending on social media. 
"Not just your average jalapeño anymore. Interesting peppers and chilies from around the world are seeing traction. Everything from Hatch chili to Peruvian peppers are seeing their popularity gain."
Christopher R. Warsow, Bell Flavors & Fragrances.
So, when Unilever's Marmite released its Peanut Butter mash-up, it knew exactly what it was doing. Not only did it tap into people's desire for new experiences, but it borrowed sales from a more dynamic category. The company's own research suggested that 60% of consumers would buy Marmite Peanut Butter in addition to the standard line.
And then there is the impact on brand equity to consider. Back in 2012, Mondelez blended Philadelphia Cream Cheese with Cadbury's Chocolate. This clever idea generated acres of coverage, created a sales 'halo' across the entire range and pushed up key equities such as 'modern' and 'distinctive.' Oh, and it delivered over £10m sales. Despite being pulled after 18 months we think you would be hard pushed to argue that this was a failure.
Elevated sensory experience
The thing about extremes is that they often dictate what is ahead for the rest of us. And as we head into 2022, we expect more manufacturers to be bolder with their innovation.
Working with progressive manufacturers, we know that many are grappling with maintaining the sales momentum handed to them by the pandemic. People's portfolio of choices is expanding rapidly as economies open, drawing cash away from consumer-packaged goods.
In developing ideas, we point to a more experimental consumer buoyed up by enforced home baking and cocktail making. Consumer closeness is revealing a new confidence among the masses to try new things.
Pepsi is a true leader in this respect, making what people love about their products more potent. More unmissable. In addition to the sensory elevation that has been applied to Pepsi and Mountain Dew, the company has announced Lay's Layers, a new three-dimensional snack format, and new generation Doritos Flamin' Hot Cool Ranch chips.
"A trend we're seeing with Gen Z is that they're all about texture, so we're really leaning into that."
Chris Yemma, PepsiCo.
Be more experimental
For 2022, let us look at how we can push the boundaries of your category. How we can kick start an aspiration for experience elevation. To do nothing is to risk becoming irrelevant, out maneuvered by more dynamic aisles of a store.
More extreme innovation is not a waste of time. It is about responding to the more experimental consumer. It's about keeping categories (and brands) relevant. It's about bringing a little excitement into a world that feels more challenging than before. Whether or not it lasts the course is not such an issue so long as it can pull in sufficient incremental volume on an impulse ticket.
We can support your product development by helping you to push the boundaries – from concept to prototype. Our direct line to MMR's sensory expertise means that we can help you identify how you can respond to the extreme innovation trend and still retain broad appeal.
In 2022, let's find your extreme.
KICR Innovation

has extensive experience in the food and beverage industry. Whether you are looking to discovery a new product or jump on a new health trend, our team can assist in fast tracking your NPD and application ambitions. Reach out today: hello@kicrinnovation.com