WHO states that one in three 11-year olds in the European region are overweight or obese. Food Navigator UK goes further: one in ten children in reception year are classed as obese, rising to one in five by year six. UNICEF state the figure rises again to one in three as either overweight or obese by the time they leave school. A YouGov survey commissioned by kids' food brand Organix found that 55% of children aged four & under have two or fewer portions of vegetables a day, this equates to 2 million under fours; further, 116,000 infants were found to have no vegetables at all in their daily diet. On average just six types of vegetable make regular appearances on children's plates, carrots being the favourite vegetable of primary school children in a British Nutrition Foundation (BNF) survey. Research by Metro (21) found that British children are eating exceptionally high proportions of ultra-processed food (UPF's) & beverages, up to 60% of daily calorie intake on average, rising to 78% for one in five children. Surely we can to do better for our younger generation? Responsibility?
Whilst it is clear that legislation, along with education, is needed to intervene & reverse these figures; there is also a glaring opportunity, perhaps we could even say a responsibility, for New Product Development (NPD) to support this. Already let down by delayed legislation, both Tesco & Sainsbury' have stated that they will continue to push forward with the HFSS changes, we salute them. It's an exciting time in the food industry, we have so much skill & technology these days, can we try & use these to develop products that support the health & well-being of our younger generation? Key requirements: nutrient dense products that taste fantastic, that our kids actively seek to consume. With so many creatives in our industry we should make it our mission to develop the very food that is appealing & that feeds them well, not just fills them up, food that delivers nutrients as well as calories. The term 'stealth health', sneaking in a few veggies here & there surely gives the wrong impression, why be shy about food that tastes great & is full of goodness? Surveys tell us parents are looking for health focussed products, that won't go to waste; kids want something that tastes great, we just need to figure it out. Opportunity?
Research shows that activity is relatively strong within the baby, infant & toddler market where 'baby snacks & desserts are centred on 'natural, unadulterated formulations'. Additive free claims appear on around two-thirds of new products, around one half also carry organic claims according to Innova Market Insights US 2020. They noted that there is a growing attention to the use of 'super-ingredients', often derived from the plant-based world, along with protein & fibre claims & a decrease in products which include added sugars. But when it comes to products on shelves for older kids Food Navigator (2021) stated that 'kids remain desperately under-served'. Opportunity?
This summer has seen a revival of the Eat Well campaign from M&S which makes free fruit, bananas & easy peelers, available for all kids shopping instore aiming to support families with their healthy eating choices. M&S have been the first to revive the Eat Well initiative which was removed across all retailers during the Covid pandemic. The on-going cost of living crisis (COLC) (further information:  https://foodinnovationsolutions.com/cost-of-living/) leading to a deepening of the 'holiday hunger' issues a number of families face, saw the majority of supermarkets supporting the Governments 'Help for Households (HfH) initiative offering free/vastly reduced kids meals in their restaurants & cafes; it has been recently reported that some are extending this offer, with Asda stores in the Lanarkshire region allowing under-16's to receive low cost meals through until the end of the year 'due to demand' (Daily Record, July) although this in itself has caused a backlash with some saying that 'children are being pushed into eating junk food over the holidays by the Government', with the supermarket meal deals aimed at low-income families falling below school standards. Easy enough to say for those with choices. The Guardian reported: "The majority of these foods are ultra-processed, which have been linked to obesity & cancer. The token nod to vegetables is the serving of peas & one meal being accompanied by a salad." Professor Greta Defeyte citing that 'Primary schools should only provide deep-fried starchy food & manufactured meat products once a week, yet these UPF's are available every day on the supermarket's menus. These menus do not meet children's dietary needs." Responsibility?
Foodservice & the HfH Campaign
Child Friendly Chains Bella Italia & Yo Sushi joined in with the HfH's campaign with
Bella Italia offering Kids eat for £1 with the purchase of every adult main, 4-6pm, Mon- Thurs; 3 courses & a Cawston Pressed Fruit Water, suitable for two- to 11-year-olds. They also offer a 'Piccolo' menu for 2-6 yr. & a Grande menu for 7-11 yr. olds. Whilst Yo Sushi's offer was Kid's eat free from 3-5.30pm, Mon-Thurs until September 29th. Suitable for under 10 years old, one child eats free for every £10 spent on food by the accompanying adult, the offer includes bento & a drink from the kids' menu. Others joining in included The Real Greek, Sizzling Pubs, Table Table, Brewers Fayre, Hungry Horse & Farmhouse Inns.
Food for Life (FFL) has joined forces with BeanMeals, a large collaborative project, grant-funded by UKRI (UK Research& Innovation) https://gtr.ukri.org/projects?ref=BB%2FW017733%2F1 The research is being led by Oxford University, the initiative to encourage children to eat healthy beans. The BeanMeals project will encourage the cooking & eating of meals made with dried beans to support an increase in low fat, sugar & salt meals made with healthy plant-based proteins. As well as providing a source of protein & fibre, dried beans are minimally processed so can support a reduction in consumption of UPF's. FFL's role within the project will be to increase food knowledge for children & families & encourage the reduction of high FSS & UPF's in household meals, beyond the school environment.
School Food Matters https://www.schoolfoodmatters.org is a charitable organisation that 'exists to teach children about food & to improve children's access to healthy, sustainable food during their time at school'. They are currently working with 100+ schools to try & encourage healthier habits, including classes for parents on healthy packed lunches. A Leeds University study, monitoring schools over a decade found that children are missing fruit & vegetables with just one in five lunch boxes containing vegetables & only half containing fruit. Shockingly only 1.6% had adequate nutrition. Why not give them some (guided) control? Give them a lunch box they have to interact with: sauces on the side, salad jars to shake, stacking & rolling wraps or s/w's; encourage them to invest in the food they are eating. Social media platforms offer plenty of creative ideas: https://www.instagram.com/little_bento_lunchbox
https://www.tiktok.com/discover/kids-healthy-lunch-box Can we utilise some of these driving them into retail & foodservice? We have such an incredible option of grab 'n' go foods in this country, is there an opportunity here for a kid's lunch box pick 'n' mix category? Cool branding for kids, clear messaging for parents? Opportunity?
A few of our current favourites…
What a grrreat way to start a day… we love Bear Alphabites multigrain cereal, made from just 6 ingredients: wholegrain ground wheat, ground oats, coarsely ground corn, wholegrain ground barley & coconut blossom nectar, a natural source of potassium. No artificial colours or flavours, no added salt. Also available in cocoa flavour, using unsweetened ground cocoa  (4%.) Bear's portfolio also includes yoyo fruit rolls, lollies, paws & fruit & veg bites. We're all going on a bear hunt… head to major retailers.
M&S have a range called Tastebuds, created specifically for 4-10 yr. olds the ready meals range was developed with nutritionists from Great Ormond Street Hospital.
https://www.marksandspencer.com/c/food-to-order/taste-buds  For those a little older @JessCooks has a great range of 'simple suppers for kids', the ethos behind Jess's meals local sourcing, sustainability & affordability. Handmade, small batch, frozen, no waste. Made with 100% British meat, traceable from farm to fork, they contain at least three types of vegetable, no added sugar & are low in salt. The range has been cleverly packaged so it is adaptable from toddler to tweens, their flexible, split, larger pack size works for two toddler meals or one for a hungrier tum.
Food Navigator state 'there is a clear trend that parents are prioritising home-style, fresh food for young children over shelf-stable products.' We think Jess's simple suppers have hit this trend right on the spot.
Heinz in the UK have launched Beanz Houmouz & Beanz houmouz with butternut squash, could this prove a product that they will find appealing? Named a 'Beanvolution', produced by cold-pressing the haricot beans to keep all their nutritional superpowers locked in.
@thecollectiveuk have recently  introduced a pair of dairy free 'suckies' to their kids range of lunch box perfect, 90g yoghurt pouches. Made with real fruit & 'no nasties' the dairy free choices are strawberry or peach & apricot made with a blend of oat & coconut milks.
Something good to drink…?
Great 'little hand friendly' Fruit Waters from @cawstonpress made from fresh fruit shaken up with water, no added sugars, no sweeteners. These little cartons are school approved, keeping your kids fully hydrated whilst learning.
Cool treats if your Wiltshire way from @moo2you from their 'Mooshake Bars' at their milk vending machines, chose your flavour, vend your very own shake straight from the machine or try out Little Jude's Fruit & Veg Rockets', raspberry & beetroot/orange & carrot/apple & spinach @judesicecream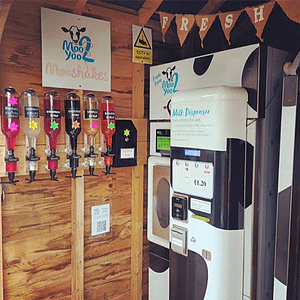 Eating Out
Kids love colour, plenty of rainbow coloured pencils & crayons to be found across food service outlets, so why then are so many kids menus still so very…beige? Chicken nuggets & fries, burger & fries, fishfingers & fries, not that there is anything wrong, these can all be both delicious & nutritious foods dependent on how they are cooked, how & what they are served with &, of course, we like our kids on their very best behaviour when eating out don't we? So are we guilty of complacency, giving in, let them have what they want? What we do know is that kids love eating out, in-fact 1.7 million of them prefer dining out compared to their parents' home-cooking! https://www.caterer.com (Dec 2019) Who also told us that the dining habits of UK families were changing, & in response, restauranteurs were hiring employees with childcare experience to accommodate the family dining out market. Whilst this was pre-Covid &, as we now enter into a high inflation, pre-recessionary period with significantly less disposable income available due to the COLC it doesn't mean that opportunities are not there. Especially if we strive to give both parents & kids what they want, with every penny counting a sure way to win some long-term customer loyalty translating into repeat business. 67% of parents however felt that restaurants should accommodate families better, with two-thirds of those saying they were not overly impressed with children's menu choices. With an estimated 57% of revenue, of the restaurants surveyed, attributed to family dining occasions, there is work to be done! Parents also stated that eating out was important in order for their children to try out new foods, with nearly three-quarters of them suggesting a menu that was simply a smaller portioned version of the adult menu, nearly half of the kids responded saying they too would like this. What about flight options from adult menus, giving them the opportunity to try new foods, to explore new flavours? Opportunity?
Offering a little bit more…
Mowgli https://www.mowglistreetfood.com offer the 'mini Mowgli' menu, smaller portion sizing but dishes taken from the standard menu: including the favourite mother butter chicken & rice. The handmade ice cones are sure to keep them quiet along with a creative drinks menu sure to make them feel grown-up; try out  the Sherbert, raspberry, lemon & ginger puree with apple juice, rose gomme & rose water or a Cinnamon Cola, apple & cranberry juice shaken with ice, fresh mint leaves & a stick of cinnamon. Wagamama https://www.wagamama.com/our-menuoffer all the standard menu classics, kids can choose from a mini yasai ramen to a mini chicken katsu, grilled or deep-fried options
Perfect menu planning from https://www.woolleygrangehotel.co.uk plenty of fruit & veg, smaller portions
Need a very special treat? Go all out with a specially designed Kids Jurassic Afternoon tea @ampersandhotel, science & cake! Renowned for their afternoon teas this one is perfect for our tweenies… chocolate & caramel dinosaur egg baskets, a raspberry & lemon crèmeaux volcanic eruption, Rex cheese claws, a blackcurrant Jurassic mountain mousse…
@hathersagesocial in the heart of the Peaks https://hathersagesocial.co.uk/menus/
proudly caters for children with its 'for the next generation of foodies menu', upgrading children's menu classic such as chicken nuggets to buttermilk chicken, tomato pasta to fresh Penne Pommodoro, using the same high quality, locally sourced ingredients found on the adult menu.
What do the 'Zoomers' want?
Our Gen z's are growing up, some already are; social media (SM) is currently one of the biggest forces shaping food trends among young consumers; SM savvy & with technology at their fingertips these guys know what they are looking for especially when swayed by 'influencers'; SM platforms are loaded with teen targeted marketing, preferred platforms specifically TikTok, You Tube, Snap Chat & Instagram. Posting a social status that is uber cool is high on the list of 'to do's' & their posts feature plenty of cooking, from viral TikTok recipes, eating & drinking. Although when eating out, takeaways & fast food are common it's cooler to be seen at quirky independents as opposed to 'junk food' chains. They is interest in plant-based eating, vegetarian & vegan diets & there is plenty of momentum for healthy eating with Buddha & Acai bowls making multiple appearance; although apparently 'teens are more likely to eat healthily if they think it's rebellious'.
"When it comes to understanding Gen Z's attitudes & behaviours towards food, it is also important to consider that Gen Z have grown up in an age of various government campaigns aimed at promoting healthy eating, including the 'Change 4 Life' & '5-a-day' campaigns. As well as the introduction of campaigns promoting healthy eating, the UK Government also introduced a sugar tax, otherwise known as the 'Soft Drinks Industry Levy', which came into effect on the 6th April 2018." From 'Future Consumer: Food & Gen Z
https://www.food.gov.uk/sites/default/files/media/document/fsa191102bt-gen-z_rea_full-report_081019-final.pdf
https://uk.sodexo.com/inspired-thinking/insights/generation-z-digital-food-habits.html
What is apparent is that these guys, along with Generation Alpha, are ready & waiting to be served the next big 'thing', hungry enough to devour it, if we get it right! Opportunity!
The future generation, figuratively speaking, have more than enough on their plates already, can we make what they have on those plates now, literally speaking, just that little bit better for them?
Ready to take on some responsibility, make the most of an opportunity? Give us a call, we have a wealth of experience in developing good stuff along with our sister Company Good Sense Research who can road test it ready for market. Get in touch now!