This past year has been an unforgettable experience for us all. For innovation, it has given many CPGs a moment to reset their innovation pipeline to help accommodate how the new consumer behaves and will continue to behave post Pandemic.
To achieve & sustain cut through in ever competitive category spaces, we must:
Renovate     >     Reset     >     Accelerate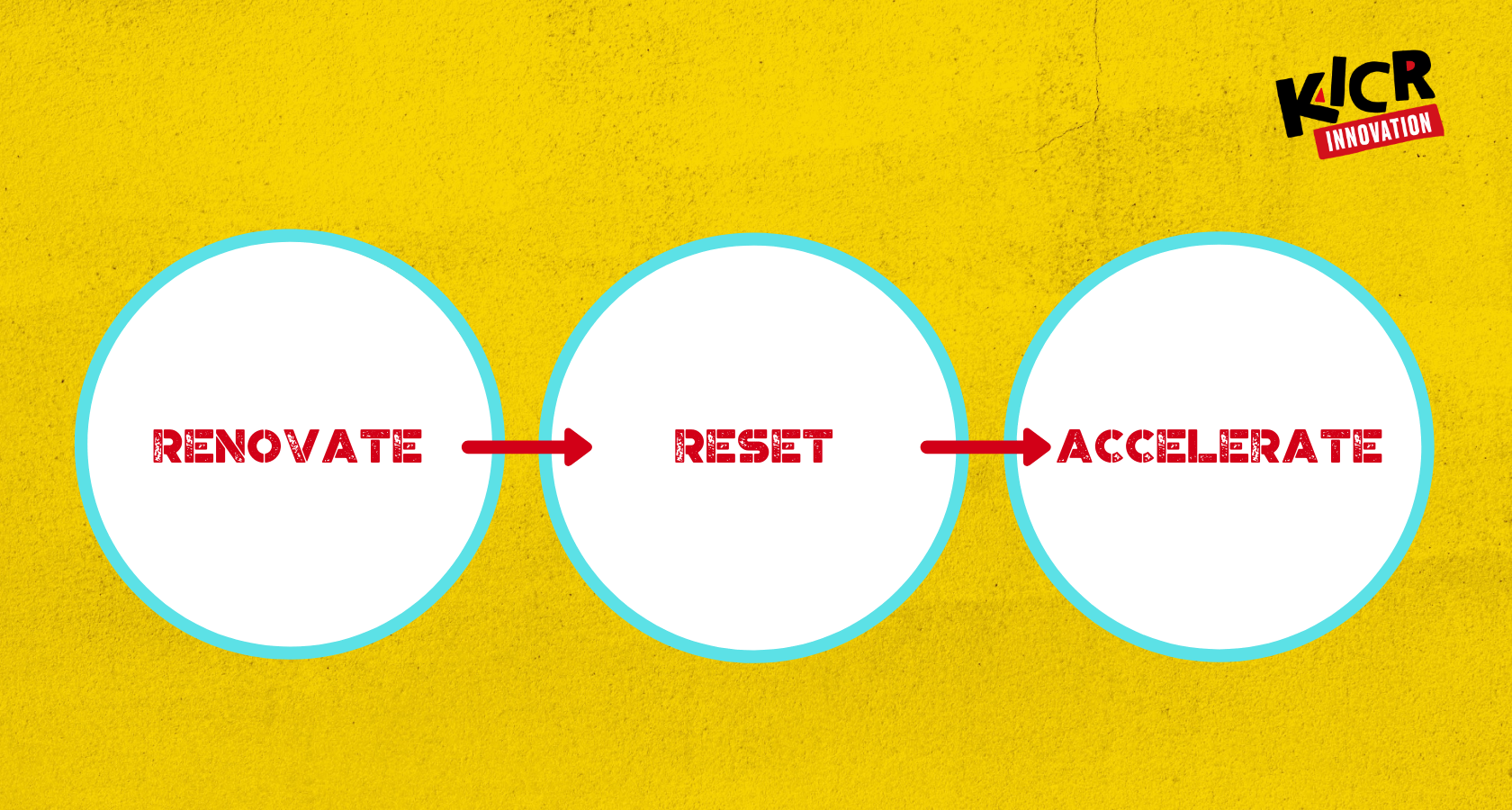 1. RENOVATE 

 
Renovate your product portfolio.
Brands are always asking how to continue to deliver new consumer experiences. Branded manufacturers have a critical need to focus on their core brands and to simplify their efforts across the portfolio more broadly. CPGs quite simply need to aim higher.
Renovate to sustain attention. These are common questions right?
– Do we have a right to play in this category?

– What's our reason to believe we can win?
Category re-discovery is a vital part of renovation. KICR continually gets approached to renovate large category portfolios and shake them up. Redesigning products to maximise consumers value and to minimise costs for less relevant buying factors. Ramping up your renovation agendas for your core brands can initiate line extension thinking.
KICR's innovation tools help support rapid, agile renovation – through rapid category discovery & breakthrough concept ideation. 
2. RESET 
Reset the innovation pipeline to help your customer's thrive.
What projects should you accelerate and what projects should you pause? A common brand leader question. We often use co-creation to ensure this audit is fully validated.

– What projects should I accelerate or launch? 
The current pipeline may not address some of the most attractive opportunities. Understand which consumers you must target for repeat and loyal purchases, and diagnose your pipeline from there.
– What projects should I pause?
Streamlining your portfolio – focus on core but consider line extensions to sustain extensions.
3. ACCELERATING BREAKTHROUGH 
CPG's are selective around "where to play." This shift must be faster to meet today's super smart consumer.
What exactly is breakthrough Innovation? You maybe asking.
Viima and Inventium have looked into this definition. They discuss that it is the change in the dynamics of a given industry or market. It is the change to an existing product, service, or process that has a significant impact on the business.
From a food and beverage innovation stance, we look at breakthrough for example as the opening up new lucrative spaces and categories for brands. Or renovating or resetting current portfolio's with new line extensions that utilize on trend ingredients and align to in demand claims.
To achieve breakthrough commercially, food and beverage brands need to look through an open lens and reduce the red tape and silos internally. You may not only need to accelerate the breakthrough workstreams across R&D, Insights and product development teams, but you may well need to evolve the innovation mindset. This may make internal teams feel uncomfortable, but change often is.
KICR has designed a 12-week breakthrough NPD process to get products to market, fast! From immersion through to first manufacture, KICR can partner with you every step of the way.
KICR focus on accelerating and revolutionizing the innovation breakthrough process.
– We accelerate breakthrough portfolio development and incubation – to focus on which projects to move forward and invest in.
– We also collaborate with in house team's to progress their innovation culture. We can assist with breakthrough transformation – navigating barriers and tensions, reviewing and evolving competences, to get products to shelf fast.
– We can accelerate commercialisation of products – scaling up from minimum viable prototypes, supporting on supply chain, manufacturing and retail sell in. Thinking outside the box to fast track scale up.
Brands that have renovated their offer  
– In the charcuterie category, the French brand Fleury Michon joined the fight against carcinogenic nitrite salts. After its range of chicken breasts, roast chicken breasts and superior ham with 25% less salt, the brand now offers five nitrite-free products made from ham, turkey and chicken. Fresher foods that have been successful since they entered the market.
– McDonald's had an image of a cheap place, where food was not healthy, even dirty. That is the reason why it turned green and included healthier, fresher foods, such as salads. All this, to convey a cleaner, elegant and healthy image. McDonald's wanted to move from a fast-food chain image to a restaurant image.